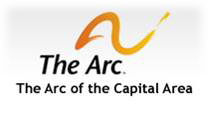 The Arc of the Capital Area is a non-profit organization committed to promoting independence and choice by providing individualized services to adults and children with intellectual and developmental disabilities. Those who work and volunteer at the Arc envision a future in which people with intellectual and developmental disabilities have the same opportunities as others to pursue full and productive lives.
The Arc of the Capital Area's Programs and Services include:
Case Management Services
Coordinates a range of community integration services and supports to help individuals with special needs to achieve and maintain personal independence. Quite often case managers are the only people our adult clients see on a monthly basis. In addition to coordinating services and providing an individual service plan, case managers have continual contact with our clients documenting changes in behavior, questions or concerns. Contact is also made with family members, school, probation officers and other entities in the clients' lives. Case managers are critical to the independence of our clients. Case managers serve our clients in a 16 county Central Texas area.
Family & Caregiver Support Services
The Arc of the Capital Area's Family & Caregiver Support Services makes sure that individuals are able to keep their spirits alive in spite of any personal sacrifices they must make while caring for their loved ones who are disabled. We do this by providing services that insure that parents with children who have developmental disabilities have access to essential information and support to develop and strengthen their care giving skills, reduce their isolation, decrease their stress levels, and support their efforts to keep their children at home, in school and functioning within the community they live.
Respite Care Program
This program provides children with developmental disabilities any opportunity to socialize with other children their age while giving parents a much needed break. This much needed break allows parents to handle personal errands such as grocery shopping, doctor appointments, work related activities, or simply to spend time with other family members who may not receive as much attention as the person with the disability. These important activities are often difficult to accomplish while caring full time for a child with a disability.
The Arc Guardianship Program
While most adults with intellectual and developmental disabilities can manage their own personal and financial affairs with informal assistance and guidance from family and friends, others need legal protection. Cost prevents most low-income families for obtaining the legal counseling they need to establish a guardianship of their child once they reach adulthood.
Without guardianship, individuals with disabilities could be left financially, medically or legally responsible for actions they may or may not understand or intend to happen, such as being persuaded to sign a lease on a car or home without fully understanding the consequences of financial obligation. Decision making ability regarding medical care may also be impossible for some people with disabilities. Without a legal guardian, these people are vulnerable to inadequate of misdirected medical procedures.
The Arc of the Capital Area staff assists families in completing necessary forms and documentation and coordinates and attends meetings between prospective guardians, pro-bono attorneys and the bonding company. Prospective guardians participate in a series of monthly classes led by peer educators and legal experts and cover a range of topics related to guardianship.
The Arc of the Capital Area partners with Austin ISD, Austin Travis County MHMR, the Travis County Probate Court and various law firms in the community to provide this Guardianship Program
Juvenile Justice Services
Juvenile Justice Services (JJS) is the only program in Central Texas that works directly with the local education system to provide case management, advocacy and support to special education students (ages 11-17) who are involved in, or at risk of becoming involved in the criminal justice system.
These students are often victims of peer pressure, teasing and abuse, and they lack an understanding of the harm their actions may be causing, due to their disability. They may not understand that stealing is wrong, or that hitting hurts. They may be attracted to gangs, who offer them a peer group they have never experienced. When left to continue these actions, they are at-risk of getting involved in more severe behavior that can eventually lead to arrest.
The Arc believes that a community-based prevention program, which meets the needs of Austin's at-risk youth with developmental disabilities, is essential. The goal of the program is to reduce or prevent recidivism in criminal matters and to provide necessary supports for at-risk youth, to remain in school, reach graduation and gain successful employment. We take action by providing education within the home and helping in locating community supports.
For those who have already become involved in the system, we help them meet the terms of their probation and avoid any further criminal activities. In addition, The Arc provides advocacy by accompanying families to court to ensure that the families understand the proceedings and to educate the court on how the child's disability may have played a part in the behavior relating to the charges.
Our goal is to reduce the number of troubled youth in the Central Texas juvenile justice system, as well as to reduce the extremely high drop-out rate for teenagers with developmental disabilities.
Community Living Assistance and Support Services (CLASS)
CLASS offers individuals with disabilities who need attendant care an alternative to institutionalization by helping them access the resources they need to live and work as independently as possible in the community.
CLASS case managers help obtain personal assistance with daily activities; personal skills training; physical, occupational, speech and specialized therapies; adaptive aids; minor home modifications; and respite care.
Academic Coaching
The Arc provides community volunteers who assist special education students and their caregivers with achieving goals specific to the student's educational plan for the future.
Academic Coaching volunteers are screened, trained and selected for assignments based on their experience relative to the client's needs and their compatibility with the individual. Our goal is to create friendships in addition to assisting students with achieving academic success. The coach and student meet once a week in the students home or local library and commit to six months.
The Arc of the Arts Studio and Gallery
The Arc of the Arts Studio and Gallery has expanded! This program is offered by The Arc of the Capital Area and includes The Cool Family Gallery for artists to professionally show and sell their artwork, as well as the Traber Studio to create their artwork in many different mediums. This program engages artist volunteers from the community to provide regularly scheduled art classes in a socially inclusive environment for youth and adults with developmental disabilities, ages 14 and older.
The Arc of the Arts is a place of warmth and creativity, where artists have the freedom to work at their own pace, learn new skills and come one step closer to realizing their dreams of independence.
The Cool Family Gallery professionally exhibits and markets artwork created at the studio, thus allowing the public to view the amazing outflow of creativity from the participating teams of artists as well as the opportunity to develop a customized employment program that promotes client directed goals and self-determination.
The Arc developed the studio and gallery to promote social inclusion and to increase access to non-segregated activities for youth and adults with developmental disabilities, as well as to provide an opportunity for adults with disabilities to learn job skills and to ultimately work towards making a personal income. The Arc of the Capital Area experienced some wonderful successes during this pilot period, and we are enthused and thankful that this program is moving to the next step by becoming a full service program.
All of the programs are in need of both volunteers and funding. As a social service organization in state ranked 49th or 50th in every social service category, the Arc struggles to provide services to the most needy among us. This coupled with the $750,000,000 in budgets cuts in social services proposed by the 2011 legislature signal a dire future for our clients. We encourage you to volunteer or give to all or a select group the Arc of the Capital Area's programs and to come to one of our many annual events including an Art Gala in October and our Golf Tournament in May. If you have any questions or comments about any of the Arc's programs or what you can do to help the Arc, please call me directly.